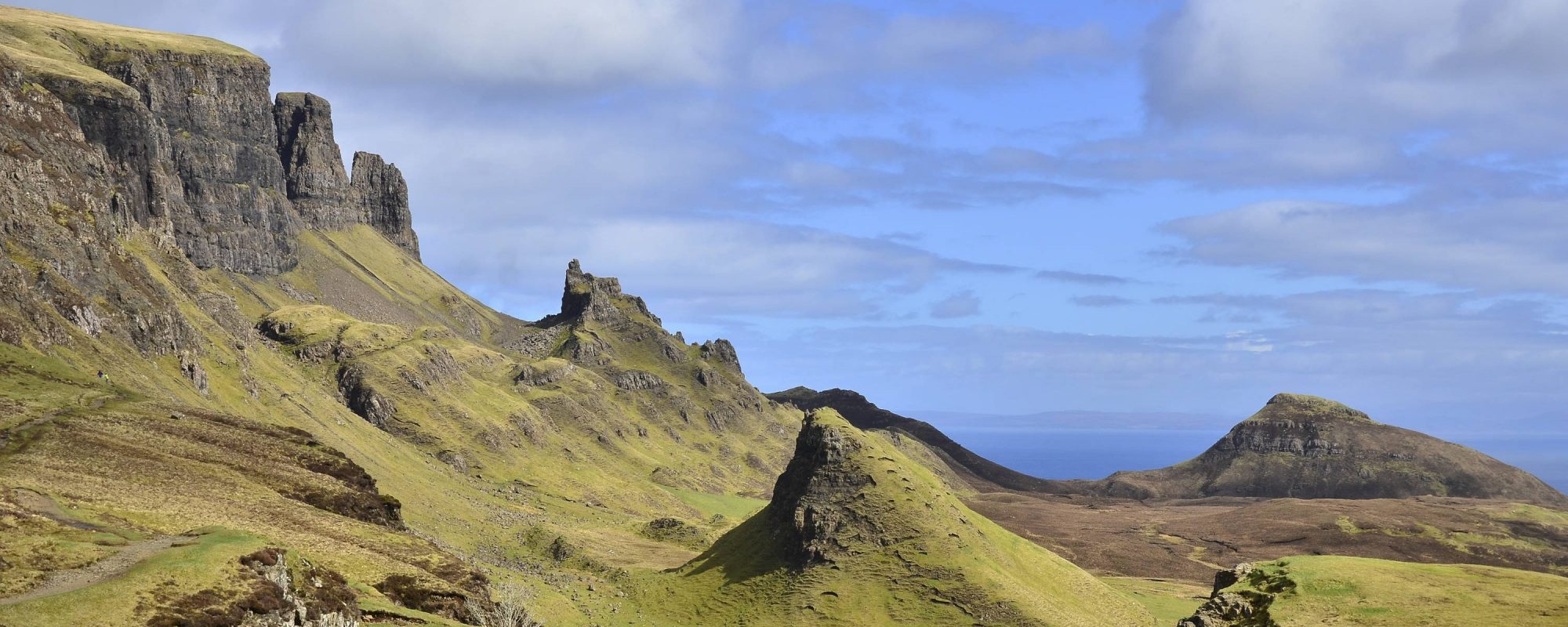 Half a Day Tour of the Isle of Skye from Portree
From £59.99
Tour Highlights
This tour caters for those with limited time who still want to enjoy all the best the Isle of Skye has to offer.
This tour starts from Portree's main square, Somerled Square at 12.30pm, returning around 4.00pm.
Highlights on this tour:
The Old Man of Storr
The Old Man of Storr is one of the iconic natural features of the dramatic Trotternish Ridge.
The ridge is a mighty inland cliff, the longest in the UK, rising to a height of 720m. This amazing landscape should be part of any tour to the island and has made Trotternish the most popular visitor destination on Skye. The Old Man is a 200ft stone pillar, which has detached itself from the highest point of the ridge, creating a fantastical landscape of twisted rocks, looming shadows and swirling mists.
The Quiraing
We take the opportunity to drive right up to the Trotternish ridge at the Quiraing, lying in the far North of Skye.
The Quiraing is a landscape used in many sci-fi films, known for its wonderful rock formations and stunning coastal views. This is a place like no other, part of the largest landslip in Europe.
Come to the cliff edge with us and see it for yourself!
Kilt Rock
Kilt Rock with the distinctive pillars and beautiful waterfall with views across to the Torridon hills on the mainland, this weird landscape is used as a film location for many Sci-Fi movies, and is known for it's amazing rock formations.
Home to the dinosaurs of Skye's ancient past and home to the most traditional people on the Isle of Skye. Only hear will you experience stunning vistas, swirling mists and shifting suns around you.
Jurassic Skye
The Trotternish coastline is the most famous on Skye. It dates from the Mid-Jurassic period, formed 175 million years ago and is the dinosaur stamping ground of Scotland.
The beaches are rich in fossils, the rocks are ancient and twisted. The whole coastline has been designated as an outdoor museum. Interpretation panels bring the area to life, explaining the unique geology of this land.Come with us and see for yourself why Skye has been voted by National Geographic as the fourth greatest island visitor experience in the whole world!
Fairy Glen
This is the most important meeting place of the Fairies on Skye. Wander between countless conical mounds, known in the Highlands as fairy knowes; put your ears to the grass and listen for the fairies at work inside.
Bend down to search for elves in the glen's miniature forests, take the twisted path to the top of the fairy castle or walk the faun's maze and have a wish granted!